In times like these... we all need a Shepherd.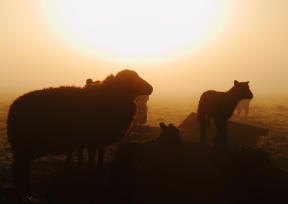 These are challenging days across Native North America and throughout the world. The uncertainty of life is very apparent in times like these.  So where do we turn… where do we find hope when things are so difficult? Soapy Dollar, Mescalero Apache and host of The Storyteller radio program points us to where he has found it, and where you can too.  Listen as he shares his own personal story, what he learned about sheep in his youth, and what we all can learn from Psalm 23… an ancient song written by a good shepherd.
Show Notes:
Many people are very much afraid these days of many different things. But in particular we're looking at the threat to our health and to our very lives, but if the Lord is your Shepherd. He brings assurance. He brings peace. He brings confidence that you know that you belong to Him and that He is going to walk with you through whatever danger we might face.
Psalm 23. The Lord is my shepherd. I shall lack nothing. He makes me lie down in Green Pastures. He leads me beside Still Waters. He restores my soul. He guides me in the paths of righteousness for his namesake, even though I walk through the valley of the shadow of death. I will fear no evil for You are with me. Your rod and your staff they comfort me. You prepare a table before me in the presence of my enemies. You anoint my head with oil. My cup runs over. Surely goodness and loving kindness shall follow me all the days of my life and I will dwell in the Lord's House forever.
Jesus Christ is the Good Shepherd who lays down His life for the sheep.